TVARIT Aluminum Coils and Prescriptive Quality
Automatic quality assessment, root-cause analysis and prescriptive dynamic recipes for optimal process parameters
EXECUTIVE SUMMARY
BACKGROUND
Automated production of rolled aluminum coils for the automotive and packaging industries using Artificial Intelligence.
CHALLENGES
High scrap rate
No real-time view of the complex & multi-stage production process
Quality assessment based on laboratory tests with a lead time of up to two days
APPROACH
TiA Machine learning model for automated quality assessment during the process
Dynamic recipes recommending optimal machine and process parameters
RESULT
Time and cost savings during the quality inspection
Real-time insights into batch quality even before chemical and geometric laboratory tests
Reduced scrap rate
Increase in OEE
01 | CUSTOMER
Our client, Hindalco, is an international manufacturer of a wide variety of metal products. In addition to copper cathodes and copper rods and other products such as gold and silver, they position themselves as the world's largest aluminum recycling company and supplier of fl at rolled aluminum products. This is reflected in consolidated revenue of more than $15 billion per year and global employment of more than 18,000 people.
02 | BACKGROUND & PROCESS
In the automated production of aluminum fl at rolled products, the aluminum is first melted in a two-chamber furnace. Additionally, other substances such as magnesium are added to specifically adjust the properties of the aluminum. The molten aluminum is then passed via a holding furnace to the casting line, which pours the material into already-hardened aluminum molds. Depending on the requirements, the resulting aluminum sheet ingots are rolled, cut and wound into coils in a complex multi-stage production process with several dependencies.
03 | PROBLEMS & CHALLENGES
Deviations in the chemical composition of the material (H2-content) & geometrical characteristics (percentage of crown) repeatedly caused quality deviations of the aluminum coils during the production process. This resulted in a high reject rate or additional efforts and increased costs due to rework or sales with discounts.
No real-time information on the multi-stage manufacturing process was available and the quality of the batch could only be determined after the evaluation of laboratory tests, which were accessible after two days on average. Therefore, the potential performance level of the entire production was limited.
04 | APPROACH:
TVARIT INDUSTRIAL AI (TIA) FOR PREDICTIVE QUALITY
An AI/ML-Model was trained based on the historical process parameters (e.g. rolling pressure, alpur temperature) and associated results from the quality tests. This model captures the relevant process parameters in real-time and thus directly assesses the quality of the aluminum coil. In addition, the parameters that are decisive for the product quality are determined and concrete recommendations for the optimal process parameters are given with the help of prescriptive dynamic recipes.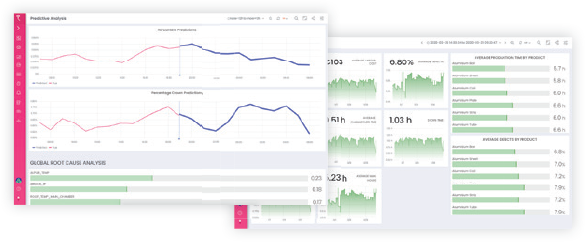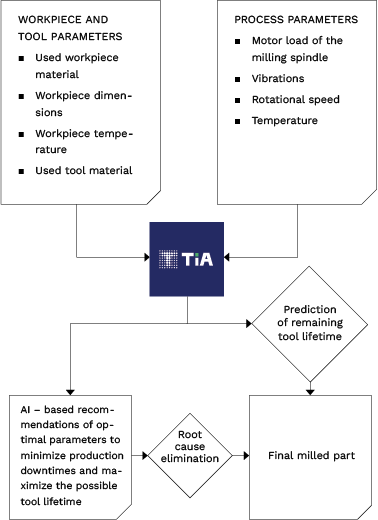 05 | RESULTS & BENEFITS FOR THE CUSTOMER
TiA displays the results of the data analysis and AI/ML model in a clear and customizable dashboard. This enables quality managers, process engineers and manufacturing engineers to gain actionable insights based on the captured process parameters which are processed by the software in real-time. Notifications and alarms ensure that anomalies and potential failures are detected during the production process. In addition, the concrete recommendations for optimal process parameters provided by TiA help to stabilize product quality.
This is reflected in shorter lead times, a reduced scrap rate, higher overall effectiveness and thus increased productivity.

Time and cost savings during the quality inspection

Real-time insights into batch
quality even before chemical and geometric laboratory tests


06 | ABOUT TVARIT
What sets us apart from other AI service providers is:
We offer field-proven and ready-to-use Data Science and AI software solutions for the manufacturing industry. These have been developed based on several years of experience working with manufacturing companies and production facilities. Our easy-to-understand software applications are created by the unique combination of the deep process understanding of our process engineers and the extensive Data Science experience of our AI experts.
The usage of hybrid AI models that are based on physical and chemical process models and use machine learning to learn from manufacturing data
Customized user interfaces for manufacturing in collaboration with process experts
Short implementation times using our EU-awarded toolbox and over 160 industrial AI algorithms
Highest standards and certifi cations in data security
Measurable and fi eld-proven results in avoiding scrap and machine breakdowns thus increasing productivity