Tvarit Low-Pressure Die-Casting- Prescriptive Energy
Automatic real time prescriptive analysis to eliminate energy losses on part level for minimal energy consumptions & CO2 emissions
EXECUTIVE SUMMARY
BACKGROUND
Energy consumption optimization in High-volume production of automotive components using lowpressure die-casting machines.
CHALLENGES
High Furnace Air Leakage
High Current Fluctuations
High Heater Impedance
Define the optimum duration for heater element replacement
Finding Root causes of high energy consumption
APPROACH
TiA machine learning model for automated real time prediction of product/process changeovers
Dynamic recipes with corrective action recommendations
RESULT
Significant reduction 18% in Energy/component. 78% Reduction in Furnace Air Leakage
Significant improvement in EnergyTemperature Profile
Significant reduction in current fluctuations and impedance of the heater elements
SOLUTION
Analysis of the major energy consumers in production using energy data
Analysis of the traceability and process data to find the various root causes
Recommendations for machine maintenance to reduce the energy consumption
– Temperature controller and driver replacemen
– Furnace Air Leakage maintenance
– Optimal PID based Feedback configurations for the temperature controller and driver
– Heater Element aging detection and recommendation for its timely replacement
AI mode
To detect anomalies in energy data
To provide the prescriptions for energy reduction
01 | CUSTOMER
Our client is a global automotive components manufacturing companies based in Germany. With more than 100 years of experience and 10,000 employees worldwide the company manufacturers over 50 million automotive component yearly.
02 | BACKGROUND & PROCESS
Production process: Melting of new aluminium ingots & scrapped component, degassing molten aluminium is transferred in a ladle to the holding furnace of the low-pressure machines in which the casting process takes place
Wide variety of energy/electricity consumers
– Machines: Ingot furnace, scrap furnace, chip furnaces, degassing machines, holding furnaces, low pressure machines
– Utilities: compressors and chillers
Energy per component during casting is sensitive to changes in temperatures, pressures, cooling rates etc.
We started studying the energy behavior of two LPDC Machines collecting data for 3 months
Each machine had three energy consuming components, Holding Furnace Heater, Mold Heater, and Robotic Arms
Major Energy Consumer on the LPDC machine is Holding Furnace Heater, contributing to about 95% of the overall energy consumption on LPDC machine level
03 | PROBLEMS AND CHALLENGES
High energy consumption by heaters in LPDC machines
High Furnace Air Leakage
High Heater Current fluctuations, High Heater Element impedances.
Increasing energy prices
Increasing requirements of OEM clients towards energy management
Difficult for the customer to identify potential and define actions to reduce the energy consumption as missing information on the energy consumption per component and lack of transparency on which processes are driving the energy consumption per component
04 | APPROACH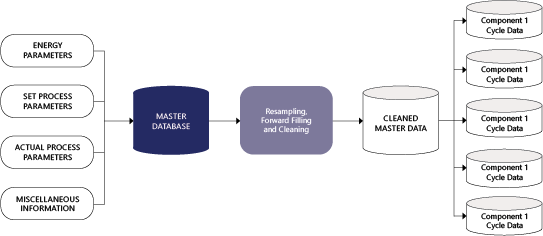 05 | APPROACH: TVARIT INDUSTRIAL AI (TiA) FOR ENERGY REDUCTION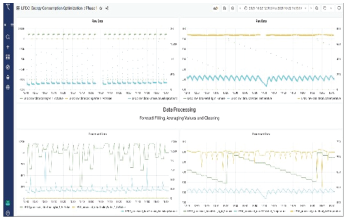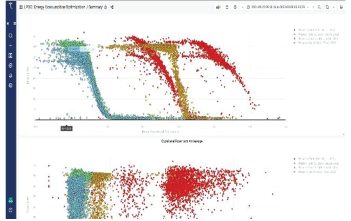 06 | RESULTS & BENEFITS FOR THE CUSTOMER
Identification of potential root causes of high energy consumption and their proficient prescription to reduce the energy
Significant reduction in energy consumption after only 3 months utilizing TiA was achieved
– 13 % improvement after recommending the Temperature controller and drivers
– 18% improvement after recommending to change the heater elements
Significant Reduction in Furnace Air Leakage
Significant improvement in Energy-Temperature profile which leads to reduction in energy consumption per component
Significant reduction in current fluctuations and impedance of the heater elements which enhance the performance of heater and limits the higher energy consumption per component
07 | ABOUT TVARIT
Tvarit offers customizable and ready-to-use data science and AI software solutions for the manufacturing industry. These have been developed on the basis of many years of experience working with manufacturing companies and production facilities.
The technological background of the user-friendly user interface and dashboards of the TiAsoftware is the proprietary algorithmic frame-work. As Tvarit continuously invests in research and development, this framework is constantly being expanded and consists of more than 160 algorithmic modules for all steps of data science projects in the manufacturing industry.
For its technology, Tvarit was recently awarded by the European Data Incubator as one of the best 8 of 490 AI companies in Europe (EU Horizon 2020).