TVARIT Production Planning with TiA
Automated real time assessment of all production and machine processes and prescriptive dynamic recipes to reduce changeover times and optimize inventories
EXECUTIVE SUMMARY
BACKGROUND
Production of individual cable types for the industry based on specifi c order quantities by the customers.
CHALLENGES
High setup times
Delivery delays due to unplanned inter-ruptions in production caused by the lack of material
Hardly sustainable inventory costs due to high variance and long lead time of materials
Micro-level inventory planning not possible due to low data transparency
APPROACH
TiA machine learning model for automated real time prediction of product/process changeovers
Dynamic recipes with corrective action recommendations
RESULT
Reduction of the required amount of changeovers
Increased material availability through predictive daily inventory planning
Reduced material handling time
Increase in OEE with simultaneous cost reduction
01 | CUSTOMER
Our customer, RR Kabel, one of the world's leading manufacturers of products & solutions for power and data management in various industries. The largest customer base is the global automotive, commercial vehicle and supplier industry, for which the company produces standard and special cables as well as customer-specific developed wiring systems and related components.
02 | BACKGROUND & PROCESS
The automated production of cables involves a large number of process steps. These are divided into individual production steps and subsequent tests. Depending on the requirement of the cable, different processes are used during production. These processes include, stranding, insulation, laying-up, armoring and the application of the inner and outer sheath. A high number of production steps, product and material types leads to complex production planning.
03 | PROBLEMS & CHALLENGES
Inefficiencies occurred repeatedly in the planning of the cable production due to several factors. The lack of material resulted in frequent unplanned changeovers of the production lines. Unsustainable inventory costs were caused by the high variance of the used materials and in addition, the long changeover times increasingly led to delivery delays and thus the deadlines and the overall schedule could not be adhered.
04 | APPROACH : TVARIT-INDUSTRIAL-AI (TIA) FOR PRODUCTION PLANNING
An AI/ML-Model was trained based on the historical process parameters relating to production and scheduling as well as the associated ERP and supply chain data. Therefore TiA processes the relevant production parameters in realtime and thus directly assesses the entire production planning and provides corrective action recommendations using prescriptive dynamic recipes.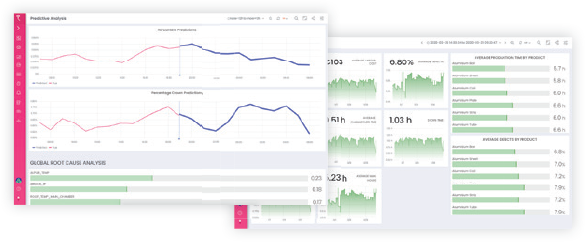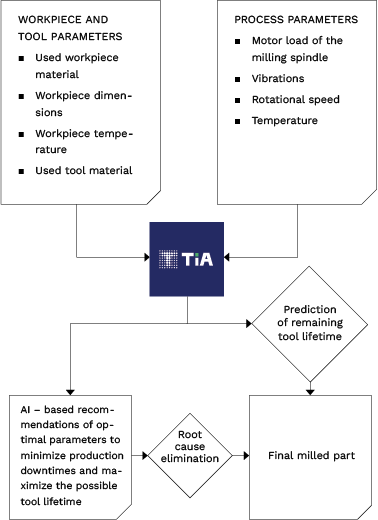 05 | RESULTS & BENEFITS FOR THE CUSTOMER
Due to the continuous assessment of all production processes, changeovers and the optimal material usage can be planned in advance. Based on this, the end user can view a real time status of the current batch production planning at any time. In addition, TiA provides daily demand planning forecasts which enables improved material availability and reduced average storage time. Thus, the OEE increases with a simultaneous reduction in overall costs. Dynamic prescriptive action recommendations enable an optimal implementation of all production processes, including changeovers and initiations of new projects. Therefore, TiA gives the ability to improve the overall productivity within the already existing manufacturing setup.

Reduction of the required
amount of changeovers

Increased material availability through predictive daily inventory planning

Reduced material handling time

Increase in OEE with simultaneous cost reduction
06 | ABOUT TVARIT
Tvarit offers customizable and ready-to-use data science and AI software solutions for the manufacturing industry. These have been developed on the basis of many years of experience working with manufacturing companies and production facilities.
The technological background of the user-friendly user interface and dashboards of the TiA-software is the proprietary algorithmic frame-work. As Tvarit continuously invests in research and development, this framework is constantly being expanded and consists of more than 160 algorithmic modules for all steps of data science projects in the manufacturing industry.
For its technology, Tvarit was recently awarded by the European Data Incubator as one of the best 8 of 490 AI companies in Europe (EU Horizon 2020).